The FIMBA Experience

September 22, 2015
For Immediate Release:
London—–The 2015 FIMBA Maxibasketball World Championships recently concluded in August at the Disney World of Sports in Orlando Florida. FIMBA (Federation of International Masters Basketball Association) is the governing body of master basketball events on an international basis and works in the same capacity similar to FIBA. They organize international basketball events all over the world on a periodic basis for men and women that range from the ages of 30-75 years old.  FIMBA boasts representatives in (44) individual countries and has hosted international basketball championships for the past (24) years.
The Master Athlete:
Who is the Master Athlete? There are thousands of former professional, college and current recreational athletes that enjoy being active and exercising on a regular basis. There are master sports events in tennis, golf, swimming, athletics and basketball. The majority of master athletes are dedicated to the health & fitness lifestyle and enjoys competing in organized competitions. In the United States there is a men's master basketball circuit that have annual events in destinations like Buffalo, Jacksonville, Detroit, Utah and Coral Springs Florida. The most popular event is the Master Basketball Association (MBA) in Coral Springs, Florida that feature teams from the United States and Canada. The players that excel have quality basketball skills and are in excellent shape. In the past years former NBA players like Glen Rice, Tim Hardaway, Billy Thompson, Greg Kite and Mitchell Wiggins have participated in the Coral Springs in event.
In the 2015 event, former NFL great Chris Carter played in the MBA. The games are very competitive and provide a networking opportunity for the players. The majority of athletes will play in 2-8 events on per year.
In 2017, the World Masters Games will be in hosted Auckland, New Zealand and thousands of athletes will participate in the event. The World Masters Games is an international multi-sport event held every four years and has developed into the largest event of its kind. In 2009 in Sidney Australia, there were 28,000 athletes that participated in the event organized by the International Masters Games Association. The World Masters Games is very popular with retired professional athletes and former Olympic competitors, with over (230) past Olympians taking part in the 2009 event. Master athletes include successful business professionals, educators, blue collar workers, retirees and high school related coaches.
Celebration of Lifestyle: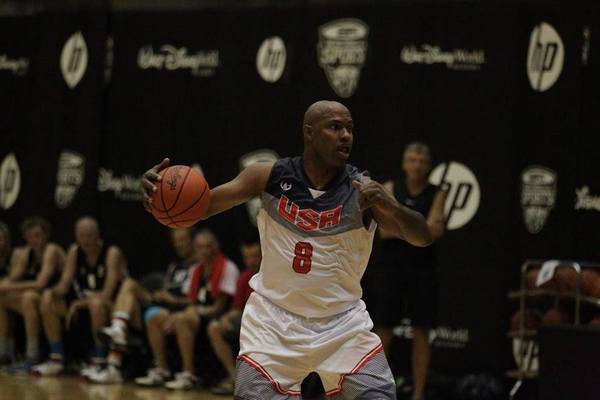 Darryl Reshaw the Executive Director of Global Basketball competed for Team USA (50 Year Old Team) that captured the Gold Medal at the 2015 FIMBA
Darryl is a former European professional basketball player that enjoyed and won many accolades during his (12) year career. Upon retirement he managed a successful European based sports marketing business and recently transitioned into the sports media sector. Below Darryl provides his personal epilogue of the FIMBA experience.
The FIMBA World Basketball Championship was one of the most gratifying International events that I have experienced in my sporting life. The FIMBA event was a first class managed event that provided an Olympic type of experience for the athletes.  The opening day ceremony featured fireworks and a parade that included thousands of athletes representing their respective counties. I was proud to be a member of the American contingent and to represent the United States of America. The magnitude of event was much larger than the game of basketball. The constant theme shared was the celebration of healthy living. I enjoyed being among thousands of International athletes that all embraced the same lifestyle objective.
The majority of my former high school, college and professional teammates are physically limited in terms of playing high level fitness sports like basketball. I believe the key to being a master athlete is avoiding major injuries, maintaining proper body weight and exercising multiple times per week.
I've participated in the Jacksonville Masters Basketball event the past (3) years and enjoyed competing against quality older players. This past spring, I was recruited to play with the South Florida Elite team that won the Masters Basketball Association (MBA) event in Coral Springs. The nucleus of our MBA team was selected to represent Team USA at the FIMBA. Both of our teams were led by Jerry Woodka (Woody) and Emery Atkinson. Woody is probably the fastest and most athletic 50 year old point guard in the world. The master related events have provided me extra motivation to keep in great shape. There are lots of former professionals that play in these events. However, the thing that amazes me is watching the 60, 65 and 70 year old players compete at a quality level. These guys are required to play 3-6 regulation games per event. I am always curious about their fountain of youth secrets and hope that I can duplicate their physical condition at 65 years old.
Normally, I play pick up basketball 5-6 times per week in the south suburbs of Atlanta. The age range of guys that I play with is 22-60 years old. Our group includes former overseas pros, college players, semi pros and quality recreation athletes. The positive thing about competing with younger athletes is the fact that you have to work extremely hard because of their speed and athleticism. The negative aspect about playing with younger guys is their questionable decision making. I believe that playing with the young guys impacts our preparation for the master related events. The master's related games are played at a much slower pace but at high quality level.
10 Days in Orlando:


Emery Atkinson the Australian Basketball Legend Flying Back in the Day
I shared a rented town house in Orlando with Emery Atkinson, James Payne and Dr Tucker during the (10) day event at Disney.  We shared hundreds of basketball stories, legendary feats and experiences during those late night conversations. Emery and I were the main cooks and James Payne was the chief nutritionist during the tenure.
Emery Atkinson is a former UNC Charlotte standout that played professionally in Australia for (9) years and won a NBL championship. He played in era where the NBL league produced a lot Australian talent like Luc Longley, Shane Heal and Andrew Gaze. The NBL also had a lot of amazing American import talent like Rickey Grace, Derek Rucker, Tiny Pender and James Crawford that help fuel the basketball revolution down under. Emery at 53 years old still dunks the basketball and is one of the best players in the world in his age group. Emery also played in the 1982 NJCAA Championship game where they lost in double overtime to Midland College led by former NBA player Spud Webb. The game was noted as the best junior college game ever and Emery's team Miami-Dade was #1-ranked and previously unbeaten going into the contest.
Emery and I were both amazed by our other housemates and legends James Payne and Dr Charles Tucker. We researched James Payne on the internet and located an article written by former NBA star Marques Johnson. Back in the day they called James Payne "Jimmy Helicopter Payne" and he was known as a Los Angeles playground legend. James Payne is also a master's basketball legend and has won the FIMBA, World Games, Jacksonville, Buffalo, Detroit and Coral Springs championships countless times. He has played in the Masters circuit the past (24) years and is known to be a hired gun for different teams around the world. He played professionally in the Philippines in the 1970's and was still dunking the basketball at 60 years old.
Dr Charles Tucker is the former agent of NBA stars Magic Johnson, Isiah Thomas, Mateen Cleeves, Rolando Blackman and Steve Smith. In the 80's he was considered one of the most powerful figures in the NBA. Dr Tucker also worked with NFL athletes like Andre Rison and Lorenzo White. He still actively advises a range of athletes and media personalities.  Dr. Charles Tucker played basketball at Western Michigan University and was drafted in 1968 by the Kentucky Colonels in the ABA Draft. He played in a number of different tournaments and was associated with a lot of players who went on to super stardom (George McGinnis, Oscar Robinson, Ralph Sampson, and Julius Erving). He even made a living trying out for professional teams for several summers. Over a five (5) year span, NBA and ABA teams would pay him up to $4,000 per week to attend training camp.
Both James Payne and Dr Charles Tucker played on the Team USA 65 Year Old team that won the gold at FIMBA 2015. These guys were seen daily exercising with the (6lb) heavy rope after their games. Sometimes they would both exceed over (300) jumps in one session. James is 67 years old and Dr Tucker is 69 years old. Emery and I were in awe of their presence, wisdom and experience. We had a lot of fun bonding, socializing and watching the games of these two legendary figures. James was the leading scorer on the USA 65 year old team and a lot of the assists were directed by Dr Tucker.
I was the internet guru of the group that shared the townhouse and researched all of the FIMBA athletes that previously had NBA, ABA International, Olympic and college experience. Every night we would review some of the players past accomplishments. The USA 65+ team featured George Tinsley who played in the ABA and won (3) NCAA D2 National Championships at Kentucky Wesleyan. He is a prominent businessman that owns over (65) KFC franchises in the United States and has a long list of other business achievements. Earl Dixon was also on their team and is a former NAIA All American & Eastern Michigan Hall of Fame Inductee that played in college basketball with George "Iceman" Gervin.
Our game against Ukraine was an amazing and a very competitive contest. The Ukrainian team featured former Atlanta Hawks player Andrew Volkov who was a star on the 1988 Soviet Union team that won the Gold Medal at the 1988 Summer Olympics.  Currently, Volkov is the President of the Ukrainian Basketball Federation. The 50 year old Ukrainian team also included some of his former European club and Soviet Union teammates. Andrej Podkovyrov was another Ukrainian legend that played for the Soviet Union and was on the Ukrainian team at the FIMBA event. Andrej at 50 years old is very crafty and shot the lights out against Team USA at the FIMBA event. He was probably the best overall point guard in the event. He played in the FIBA European Cup at 38 years old and had some amazing statistics. I met Andrej in Kiev Ukraine back in 2006 while working as a sports agent and recruiting Kyrylo Fesenko who played for the Utah Jazz for a few years. Fesenko is a current starter for the Ukrainian National team and plays on one of the top pro teams in Russia. Andrej was Fesenko's coach in 2006 and I had the opportunity to worked Fesenko out their club facilities and developed a relationship with him over the years. I was shocked to see Andrej at the FIMBA event and I had no idea about his past professional playing career.
Bob Bigelow is a former Kansas City Kings player that was drafted in the 1st Round of the 1975 NBA Draft. He played in the FIMBA event for the USA 55 year old team. He is amazing shape and played at an incredible level. His game is very efficient and definitely pro like. I was amazed with his fitness level at 61 years old.
Billy Thompson the former Los Angeles Lakers player played on our 50 year old team and impacted our victories against Italy and Ukraine. Billy Thompson is one of the few players in the world that won a NCAA Championship (Louisville Cardinals) and a NBA Championship (Los Angeles Lakers) in a span of a few years. He also won a Israeli Championship with Hapeol Jerusalem and captured the 2015 FIMBA World Championship. Against Germany, Billy Thompson dunked on a fast break and surprised everyone in attendance. Alton Lister the former Milwaukee Bucks big man participated for our 55 and over team and was in excellent shape.
The Italian team featured Mario Boni, one of the all time leading scorers and stars in Italian Basketball history. The Italian teams at the FIMBA event featured all former high level professionals that played in the top league in Italy for many years. The Italian team was expected to win the Gold in the 50 year old division, since they had won the 2013 FIMBA event in Greece. Additionally, Greg Kite who played with Boston Celtics with Larry Bird and won (2) NBA Championships played with our 50 year old team that captured the Gold. He provided some very valuable minutes in the FIMBA Championship game against Italy that was featured on ESPN3.
One night at the townhouse Emery and I watched a documentary about Ian Mahoney a member of our 55 year old team that is a cancer survivor and an excellent player. His daily work ethic and professional workout routine is an inspiration to any person wishing to defy the odds.
https://www.youtube.com/watch?v=N0r-9QwJNLg
The whole event was unique and gratifying on a variety of levels. We met many athletes from all over the world that were happy to be part of the FIMBA World Basketball Championships. The American contingent support from members of our other teams was amazing and Olympic like. There were lots of athletes over 6'9" walking around which created a unique basketball atmosphere. The event was well organized and featured a range of events, dinners and an exceptional opening day ceremony. Walking in with the American contingent and holding the red, white and blue flag in a stadium with thousand of athletes with cameras flashing was truly special.
The Reunion
During the beginning of the event I connected with a couple of athletes that I met back in Europe many years ago. The first guy I ran into was Dan Gay, a former NBA draftee and Italian League professional. Dan has resided in Europe for over 30 years and ironically we beat their team in the championship game. The last time that I saw Dan was in Poland at the 2009 Eurobasket event where he was working for the Italian Basketball Federation. We have kept in touch over the phone for many years and share a common good friend Chris McNealy. Chris is a former New York Knicks and Italian League professional player. Chris and Dan are great friends and both reside currently in Italy.
I also ran into Jarosław Zyskowski who is a former Polish professional player and current professional coach. Jarosław and I met in 2000 in Warsaw while he was the Head Coach of the Warsaw Polonia team. We have kept in touch over the years and I even tried to secure his son a NCAA Division 1 basketball scholarship. His son is one of the top players in Poland and has represented the Polish National Team. Jaroslaw was an outstanding professional player, his team Śląsk Wrocław won the Polish Championship (5) times and he was a member of the Polish National Team.  We were both very surprised to see each other at the FIMBA event. Jarosław knew me as an agent and was surprised to see me playing basketball at FIMBA event. During the tournament he told me he was really impressed with my game. I had to remind him that I went to Europe as a professional player prior to my sports business career. As mentioned earlier, I had met the Ukrainian basketball legends Alexander Volkov and Andrej before in Europe.
                                                               
In summary, the FIMBA experience was an awesome Olympic type of celebration that promoted the healthy living lifestyle theme. The International game is different and the FIMBA event provided a special global basketball experience for all the participants. The objective of the master athlete is to eat right, exercise, compete and live longer.
Media Links:
FIMBA 50+ Championship Game on ESPN
Marques Johnson ESPN Article About LA Playground Legends
Los Angeles Times Article about Dr Charles Tucker in 1985
Basketball GM Interview with Alexander Volkov
PR Contact
Darryl Reshaw
Global Basketball Inc.
ExecutiveDirector
USA: Tel: 877-209-2220
UK: Tel: +44 7950 168378
marketing@globalbasketball.com