How Good Can the Jazz Be?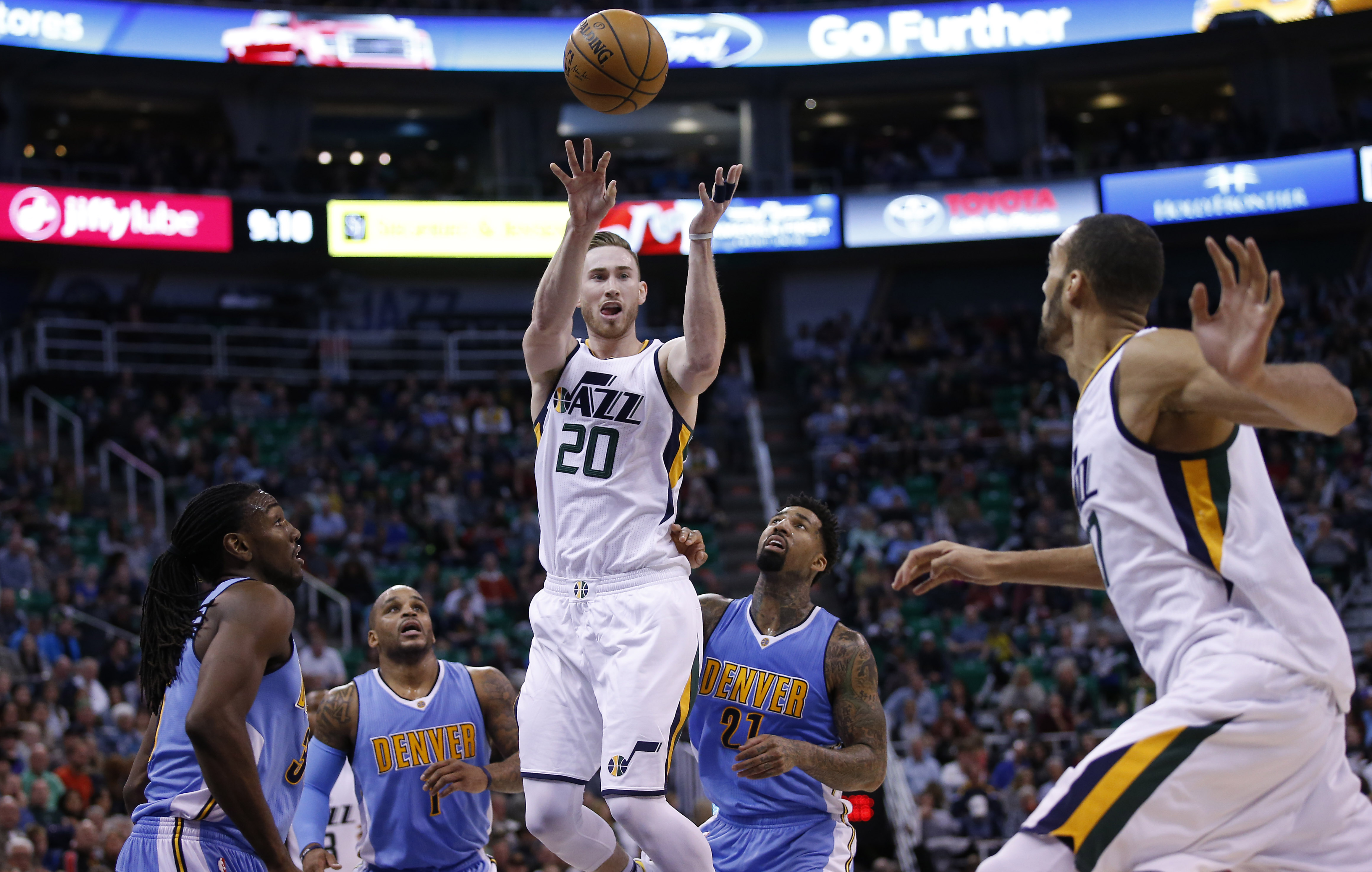 The Utah Jazz could be a Western Conference Finals contender, but we still don't know what they are yet.
Given the inordinate amount of crazy NBA storylines this season, the Utah Jazz' ascent as one of the NBA's most dangerous teams has been fairly quiet. Utah is 35-22, good for the seventh-best record in the NBA, and has yet to round into form.
With nearly every team embracing the movement toward extreme pace-and-space basketball, the Jazz go against the grain. They want to slow things down—they rank dead last in pace—and fall back on their suffocating defense, the third-best in the league. Utah works extremely hard for everything they get, but by doing so, they force their opponent to do the same.
Utah's identity is unmistakably its defense, which gives up under 96 points per game. The Jazz allow only 8.2 made threes per game and hold their opponents to an effective field goal percentage just under 49 percent, good for the second-best mark in the league. They defend the entire floor extremely well, but any conversation about Utah's defense has to start on the interior, with the lanky French behemoth, Rudy Gobert, who anchors it.
Gobert is the best rim protector in the league and has become a legitimate star for his work on the defensive end; he's a lock for the All-Defensive First Team, and he should have been an All Star this year. He leads the league in blocks, owns the second-best defensive rating in the league, and holds shooters to a league-best 48 percent shooting within six feet of the basket (among players who defend at least four such shots per game).
A sturdy rim protector is the foundation of an elite defense, as it increases the margin of error for the rest of the team, which knows they have a long-limbed wall behind them. In a very basic sense, all Utah's perimeter defenders have to do is run their man off the three-point line and funnel them into the paint, where Gobert lurks. Watch him come from the help side to send Jrue Holiday's layup to half court:
Then, on the same possession, he forces Holiday into a turnover with another strong rotation:
That's the kind of fear Gobert instills in opponents. Just the threat of a huge rejection is enough to force dudes into nervous, ill-advised decisions. He's not as good at switching as someone like Draymond Green or Paul Millsap, but he's quick enough and long enough to stay with guys on the perimeter; Gobert is about as mobile defensively as you could expect from a 7'1" center.
Not only does Gobert defend the rim at a high level, he's a terrific rebounder as well. The Jazz are the fourth-best defensive rebounding team in the NBA, as they grab nearly 79 percent of their opponents' misses, and when he's on the floor, Gobert alone grabs over 29 percent. The Jazz allow only eleven second-chance points per game, and Gobert's impact as a glass-cleaner is a major reason why.
The Stifle Tower has been a terrorizing defender for a few years now, but it's his offense that has turned him into a stud. That's not to say he's Shaq or Hakeem, or even Greg Monroe, but he's putting up a career-high 13 points per game on over 64 percent from the field. He's one of the most potent rim-rollers in the league and his hands have steadily improved to the point where he can catch and finish around the basket with ease.
Gobert isn't a superstar (yet), and the Jazz may not have a true "superstar." But Gordon Hayward is damn close to being one. The first year All Star's per-game stats seem ordinary for a first option on a good team, but that's due to Utah's pace, not Hayward's abilities. Take a look at his per-100 numbers compared to the league's best wings:
This isn't a case of skewing stats to make a point; Hayward's numbers stack up against the game's best. Like Leonard, Butler, and Antetokounmpo, Hayward has steadily increased his scoring every year he's been in the league, and his efficiency is way up from last season. Perhaps the most crucial improvement in Hayward's game has been to his three-point shot. He's hitting at 38.5 percent from distance—on over five attempts per contest—his highest rate since 2013, when he only took 3.4 threes a game. Plus, he's taking more difficult treys than ever—1.5 pull-up threes per game—and burying them at a 39 percent clip, better than pull-up three pioneer Steph Curry.
Teams used to be able to go under that screen, like Luol Deng does there. Not anymore. Now that he's weaponized his three-point shot, other parts of Hayward's game have opened up. Get caught up in that pick, and he's launching. Stay on his hip, and he'll toast you with an effective mid-range game:
Hayward averages 0.95 points per possession as the ball-handler in pick-and-rolls (84th percentile), and has mastered the herky-jerky, in-between game. He's also become adept at finishing around the rim, shooting 64.6 percent within five feet of the basket. Among wings that attempt at least 3.5 of those shots per game, only Durant, James, Antetokounmpo, and Harrison Barnes convert at a higher rate.
Hayward isn't just a scoring wing. The Jazz wouldn't be the Jazz if he were. He gets his shots within the flow of the offense, and if a look isn't there, he keeps the ball moving, and he's always been a good passer. He's also become a solid defender; at 6-foot-8, 225 pounds, Hayward has both the frame and the quickness to cover any position but point guard and center. It always helps when a rim protector like Gobert has your back, and Hayward isn't a lockdown defender, but he is a bona fide two-way guy Utah can depend on.
If Gobert and Hayward have been this good, the Jazz should be able to create some separation between themselves and the middle of the pack in the West, right? Utah's stumbling block all season has been injuries, and without having its full rotation together for extended stretches, the team has struggled to build much momentum.
Quin Snyder has used 17 different starting lineups and no five-man unit has logged more than 105 minutes together. Hayward has missed seven games; Alec Burks recently came back from an ankle injury that cost him 35 games; Rodney Hood as been in and out of the lineup with various ailments; sore left knees kept Dante Exum and Derrick Favors out for a combined 32 games.
Newly added point guard George Hill is having a career year and would have been in the All Star conversation if not for the plethora of injuries that have held him back. Hill has played in only 32 of Utah's 57 games, but when he's been on the floor, both he and the Jazz have been scary. Hill is putting up just under 18 points per game with crazy efficiency, and the team is 22-9 when he plays, with a net rating of plus-11.8 with him on the floor.
Utah has been able to stay alive due to the play of Hayward and Gobert as well as their outstanding depth. A healthy Jazz are as deep as any team in the league, and between injuries and certain youngsters (Exum and Trey Lyles) being unready for major minutes, Snyder hasn't been afraid to get creative with his rotation.
Shelvin Mack has quietly been a solid floor general off the bench, Burks has been an energetic north-south penetrator since his return, and Hood has looked like a long-term starter when he's been healthy. Jigglin' Joe Ingles is shooting the lights out, and the Jazz are plus-17 points per 100 possessions when he plays with Hill, Hayward, Favors, and Gobert, Utah's starting lineup with Hood out. Iso Joe Johnson continues to get buckets at age 35. Boris Diaw and Trey Lyles form a nice backup big man tandem, and both pair well with to Gobert.
The Jazz are 8-1 when Hill, Hood, Hayward, Favors, and Gobert (their preferred starting unit) start, but that group is minus-2 points per 100 possessions. The Jazz are better when Gobert shares the floor with a floor spacing big like Diaw or Lyles, and Favors is best suited to play center at this point. The Gobert-Favors duo is good, but it's unclear if it can be good enough in a playoff series against a fast team like Houston or Golden State.
That leads to the question of how well Gobert and Favors fit with one another. Outside of the first five or six minutes of each half, Snyder has virtually abandoned the Favors-Gobert front line, which is smart. It's tough to score when you have two non-shooting bigs, and quick teams will continue to target those two in pick-and-rolls.
The upcoming offseason will be tricky, and the front office will have some tough decisions to make. Hill is on the last year of a cheap contract, and Hayward is expected to decline his one-year player option and enter free agency this summer.
Utah has until the end of February if they want to extend Hill using the $13 million they have in cap room; otherwise he becomes an unrestricted free agent, and he'll command much, much more than the $8 million he makes now.
Hayward will get max money from someone. There have been rumors that he may sign with Boston, but the Jazz will be the obvious front-runner to sign him, especially under new CBA rules, which incentivize players staying with their current teams.
Keeping those two will push Utah close to the luxury tax, making it difficult to hang on to the rest of its core. Hood is eligible for an extension until October, and it seems likely that he'll get it (remember, teams can go over the cap to retain their own players). The Jazz have options that can make them more flexible financially: Gobert just inked a five-year extension last summer; if the team decides he and Favors aren't the best pairing, they could trade Favors, whose $12 million deal expires after next season, to clear up more space. Diaw and Raul Neto's salaries for next year is non-guaranteed, and Ingles, Burks, and Exum could all be potential trade chips for salary-clearing purposes.
The Jazz can't keep all of these guys (unless they want to pay a super heavy luxury tax penalty)—it's just too expensive. Ultimately, they'll have to pick a core group and roll with it, which will involve shedding key players.
These decisions would be easier to make if the roster hadn't been so banged up all year. The Jazz have gotten only a glimpse of what their foundational guys look like together—not a big enough sample size to draw any conclusions.
It also makes it tough to gauge what the Jazz are right now. They're 20-6 when both Hayward and Hill play, (with a plus-12.8 net rating when those two share the floor), and Hood's eventual return should re-solidify the starting lineup and highlight Utah's depth. A post-All Star break run could be in the cards. The third seed is attainable, and a Conference Finals appearance isn't out of the question… if Utah is healthy. The scariest part about this team is that we don't yet know how good they can be.
Stats current through February 15, 2017.
Stats courtesy of Basketball-Reference, nbawowy!, and NBA.com.
Salary cap info courtesy of Basketball Insiders and Larry Coon's NBA Salary Cap FAQ.