NBA Awards, Part I: MVP, DPOY, and more
The NBA regular season is over and the playoffs are only a couple of days away. How did we get here?
I don't have a real vote in end-of-season awards, but I greatly enjoy doing these kinds of things as fun exercises.
I try to take everything into account when making these decisions: traditional and advanced stats, opinions of smart NBA people I trust and respect, and what I see in the games every night. With that being the case, here are my picks for the NBA's 2016-17 season awards.
Most Valuable Player
Kawhi Leonard
James Harden
Russell Westbrook
LeBron James
Stephen Curry
This was a struggle. Strong cases can—and will—be made for Harden, James, Leonard, and Westbrook, and they all make complete sense. There is no wrong answer among those four.
LeBron is still the best player in the world, and he posted one of the best seasons of his career. He lead the league in minutes per game at 32 years old, and the Cavs stink without him on the floor. James is an all-time great passer who makes everyone else better, and he's compensated for a slight decline in athleticism with a resurgent jumper and brute force.
But the Cavaliers sputtered after the All Star break, and their defense was atrocious down the stretch. The best player plays a role in that. Everyone knows the Cavs coast in the regular season, and LeBron will still probably be the best player in the playoffs. But effort matters in the MVP race, and a late season drop-off bumps him down.
Harden and Westbrook were neck-and-neck with one another all season. The amount of separation between the two is miniscule, and Westbrook has recency bias on his side, but Harden has been slightly better over the course of the season.
Westbrook's triple-doubles, while impressive, are an overrated measure of his MVP candidacy; his stats aren't that much gaudier than Harden's. The best argument for Russ lies in his usage stats and his performance in the clutch (five-point game or less in the last five minutes). Westbrook scored 6.2 clutch points per game, the most in the league, with a preposterous 62.3 usage rate in those situations, and the Thunder are 25-15 in clutch games. He almost singlehandedly won every close game for his team, and he did it more and more as the season waned.
Westbrook accounts for almost literally all of the Oklahoma City's offense; he led the league in assist rate, and his nearly 42 percent usage was the highest in league history. It's debatable, though, whether or not the Thunder are better off with Westbrook soaking up that much of the responsibility, as Westbrook is remarkably inefficient for a player with such a high usage rate. He leads the league in shot attempts by a mile, but posts way-below-average shooting numbers.
Harden, meanwhile, plays a nearly identical role for a 55-win team and one of the most lethal offenses in league history. Though they have similar assist numbers, Harden is a far better passer; he leads the league in points created via assists and reads the defense as well as anyone in the league. He turns the ball over a ton, a product of having the ball in his hands so much, but is otherwise quite efficient. The Beard's effective field goal and true shooting percentages were far higher than Westbrook's, and he had one of the three-point era's most efficient high-usage seasons.
Switch Harden and Westbrook, and both teams probably suffer. Each is a perfect fit in their respective offensive system, and the supporting casts are nearly identical. Neither player is good defensively, which is understandable given their considerable offensive responsibilities.
The Thunder fell short of their preseason projected win total (according to FiveThirtyEight), while Houston exceeded theirs by ten wins. These two are close, but Westbrook is a one-man show who doesn't make his teammates markedly better. He was the difference between the lottery and the six seed while Harden was the difference between a lottery team and a potential title contender; Harden makes everyone around him better and he's the catalyst for one of the best offenses ever.
The case for Kawhi can be boiled down simply: he's good at everything, he's the only candidate who significantly impacts the game on both ends of the floor, and he's best player on a 61-win championship contender.
It's interesting, though, that Kawhi is also the candidate with the strongest argument against him: of the four leaders, he played the fewest minutes and has the lowest per-game numbers, value over replacement player, and box plus/minus. In the year of the triple-double, Leonard has zero such efforts.
But he's the most well-rounded player in the game and has the fewest weaknesses of anyone on this list. Leonard is a world-class offensive and defensive player as well as the Spurs' only All Star. He is the reason they're in the championship conversation.
Leonard's usage shot up to over 31 percent this year, the highest number for any Spur since 2009. But the rest of his game hardly suffered. His shooting efficiency dipped slightly, and his defense regressed marginally, but he remains a top-tier player in nearly every facet of the game.
Leonard is one of the most efficient players in the NBA. He can score consistently from anywhere in any way, and he rarely turns the ball over. He shoots above the league average from everywhere on the floor and ranks in the 69th percentile or higher on isolations, pick-and-rolls, spot-ups, and post-ups. No matter how defenses play him, Kawhi can get off a good look.
The one knock on Leonard's game is that he doesn't create much offense for his teammates. His 18.9 assist rate was by far the lowest of the MVP hopefuls, and he only created nine points per game via assists. He doesn't yet possess the floor vision of LeBron or Harden and he doesn't make advanced reads or see multiple steps ahead of the defense. Still, he's made significant strides as a passer, and he more than makes up for that relative flaw on the defensive end of the floor, where he exists on a level of his own.
No one compares to Kawhi as a perimeter defender. Defense is half the game, and while many of the league's best players struggle on that end, Leonard excels. He can guard four positions and almost always has the advantage over his man on both ends of the floor, making him impossible to exploit.
Harden, Westbrook, and James have total command over their respective offenses. But Leonard controls the game on both ends, which, in essence, is the crux of his MVP case.
Leonard's game-clinching sequence against the Rockets in March was less a single moment and more an encapsulation of his entire season. He plays the part of go-to scorer and lockdown defender for a team with a legitimate shot at winning the title. There's no soft spot in his game, no weakness to be targeted when the game is on the line. No matter what job the Spurs need done, Leonard is the guy.
Several candidates garnered attention for the quietly-intriguing fifth spot, including Curry, Kevin Durant, Giannis Antetokounmpo, and Chris Paul.
Ultimately, Curry edged out Antetokounmpo by a hair. Durant and Paul missed extended time, while Giannis, though incredible and wildly entertaining, tailed off in the second half.
Curry has been in MVP form since March and he led the best team in the NBA to a third straight 67-win season. The Warriors' offense still craters with Curry out of the game and dominates with him in, and even in a "down year," he was one of the most efficient players in the league. He's still every bit as capable of becoming the flame-throwing assassin he was when he was tearing up the league the last two years.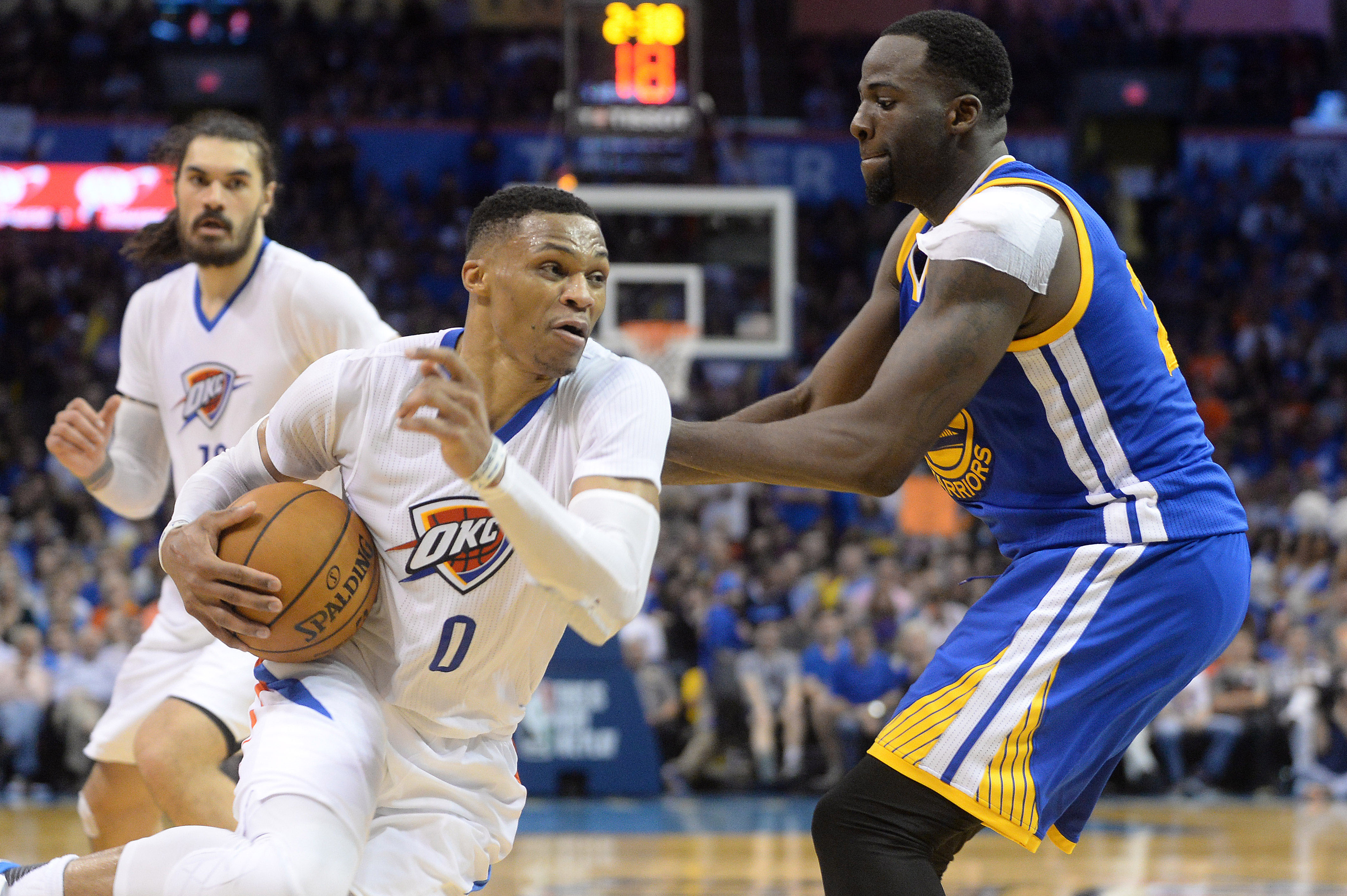 Defensive Player of the Year
Draymond Green
Rudy Gobert
Kawhi Leonard
You can pencil in these guys, in some order, as the top three for the next five years.
Kawhi is still shadow-like on defense and the best perimeter defender in the league. He swallows up ball-handlers with his length, comes out of nowhere to cut off passing lanes, and just straight-up takes the ball out of dudes' hands. (I don't think I could dribble the ball 15 feet against Kawhi without getting ripped.) He's an underrated rebounder, and he's smart about when to reach in or gamble in the passing lanes.
Advanced metrics and on/off numbers paint Kawhi as a worse defender than he really is, but those are clearly are aberrations that should be taken with a grain of salt (or five). That being said, his defense has dropped off marginally from its super-duper-mega-elite level the last two seasons, which makes sense given his increased offensive role. Kawhi at 90 percent on defense is still a top-three defender, but it drops him below the other two guys on this list.
Gobert is the best rim protector in basketball, and probably should have been an All-Star. Utah's third-ranked defense would crumble without Gobert. He held opponents to 49 percent within six feet of the rim, the best mark in the league, and he's gotten better at corralling smaller guys on switches.
The Stifle Tower was one of the few constants on a Utah roster ravaged by injury, and he somehow kept the Jazz' defense elite throughout the season. Gobert challenges every shot and isn't afraid to get put on a poster or two, nor does he flail his body around in hopes of drawing bogus charge calls. He's a terrific rebounder who doesn't allow opponents second-chance opportunities, and he finished in the top three in virtually every meaningful defensive statistic.
Green is the most versatile defender in the league, which gives him the slight edge over Gobert. His length, bulk, toughness, and foot speed make him one of the handful of guys in the league that can credibly guard five positions.
His positioning is unbelievable, his anticipation is incredible, and his hands are scarily quick. He racks up tons of blocks and steals without taking silly risks than compromise the possession.
Draymond protects the rim and guards the perimeter, often on the same possession, and opponents shot less than 40 percent overall against Green and just 48 percent within six feet of the basket. He's excellent at staying vertical when challenging shots, and with sneaky athleticism and ultra-long arms, opponents have a tough time finishing over him.
The Warriors have good defenders up and down their roster, but Green is the string that ties them all together. He gets the nod, by a hair, over the other two guys.
Sixth Man of the Year
Andre Iguodala
Eric Gordon
Lou Williams
Both Gordon and Williams cooled off since they became teammates, and both were important, microwave-like scorers off the bench. James Johnson played a crucial role for a scrappy and shorthanded Heat team, and Patty Mills often earned crunch-time minutes for the Spurs. But none had the same on-court impact Iguodala did.
Iguodala is good enough to start on most teams, including his own. He does a little bit of everything; he can create his shot in a pinch, knock down spot-up threes, make plays for teammates, and guard the other team's best wing player. He's an expert at swiping the ball from shooters as they go up and he's able to snare rebounds in traffic like few can.
The same great instincts and anticipation that make him an elite defender also make him a skillful facilitator. Iguodala sees passing lanes that no one else does and he excels at setting up cutters and open shooters for easy buckets. He steadies the Warriors on both ends of the floor, especially when the team starts out poorly.
Iguodala's Sixth Man of the Year candidacy was strengthened when Kevin Durant went down with a leg injury in late February. Steve Kerr had to restructure his rotation to make up for Durant's production, and while Matt Barnes and Patrick McCaw started most games in his place, Iguodala did most of the heavy lifting in KD's absence.
Iggy has been on fire since then and he helped the Warriors close the season on a 17-5 run. Iguodala will become more valuable in the playoffs, as he does every year, even with Durant back.
Rookie of the Year
Malcolm Brogdon
Jaylen Brown
Dario Šarić
This might be the most divisive category on the ballot. Joel Embiid had this award locked up until he was shut down for the season after just 31 games. Voters seem to be torn on whether that's enough to merit consideration for a significant end-of-season award. My answer: no, even if he was one of the most dominant rookies in recent memory when he did play. Sorry.
His teammate, Šarić, made a late push for this award after the 76ers traded Ersan Ilyasova at the trade deadline. The young Croatian plays with a flare and energy that makes him hard to ignore, and his per-game numbers are terrific. But it seems like his second-half surge has been more a product of increased opportunity than anything else. Šarić has improved, to be sure, but his efficiency and impact numbers pale in comparison to Brogdon's and he didn't play a key role when the team was actually relevant.
It almost seems unfair to classify Brogdon as a rookie. He's 24 years old and he plays with the demeanor and savvy akin to that of a veteran point guard. He took the starting job from Matthew Dellavedova midway through the season. "The President" already has real point guard chops despite mostly playing the wing in college—something he worked diligently on over the summer—and can play on or off the ball, making him a great fit with Antetokounmpo and Khris Middleton, two ball-handling wings.
Brogdon averaged 5.8 assists per 36 minutes and knocked down over 40 percent of his threes in his rookie campaign and built a nice chemistry with backup center Greg Monroe.
Brogdon has a knack for making the right play and an innate sense of where to be—and where the ball needs to be—at all times. He commits the fewest "rookie mistakes" of any rookie in the league, and when he does, he doesn't get rattled like most young bloods might. He's made a compelling case that he's the point guard of the future to pair with Antetokounmpo, Khris Middleton, Jabari Parker, and, potentially, Thon Maker.
Brown gets the nod over Šarić for second because he played a key role on a contending team. It's rare for a top-three pick to have the opportunity to play for a top-five team right away, and Brown made the most of that opportunity. He finally earned Brad Stevens' trust and started looking like he belonged after the All Star break, and while he clearly still has some growing pains to work through, he looked like a capable NBA contributor most of the time. A year or two more of seasoning will make a big difference for Brown, who has star potential. But right now, the Celtics just need him to keep contributing.
Coach of the Year
Gregg Popovich
Mike D'Antoni
Erik Spoelstra
There's a long list of qualified candidates here, and keeping off the likes of Steve Kerr, Quin Snyder, Rick Carlisle, Brad Stevens, and Scott Brooks feels weird.
But there are a lot of great coaches in the NBA. We might not see anyone fired this year, and there's another handful of guys beyond who we already mentioned that have done an outstanding job.
Snyder took a Jazz roster that was never really healthy to 51 wins and the four seed, and he draws up some of the more clever out-of-timeout artistry in the league. The Wizards did a complete midseason 180, and Brooks is largely responsible for that. Getting 49 wins out of one of the thinnest teams in the playoffs ain't bad.
It sounds simple, but D'Antoni giving James Harden the role he did was a brilliant and bold move that helped give the Rockets the third-best record in the NBA. That wasn't so obvious before the start of the season. D'Antoni maximized the talent on the roster he had—encouraging everyone to shoot, reviving the careers of Eric Gordon, Ryan Anderson, and Nenê, and doubling down on his team's strengths rather than compromising them. Harden had a lot to do with that, but the job D'Antoni did was still one of the few best in the entire league.
Spoelstra was probably underappreciated during the Heatles era, but he proved himself one of the league's best coaches this season. Miami lost three of its five best players from last season and managed to make a playoff push after being dead in the water before the All Star break and headed toward the top of the lottery. Spoelstra got contributions from the unlikeliest of characters, and perhaps to team overachieved more than his group did, even if Miami did (unfortunately) fall just short of making the playoffs.
Pop led San Antonio to yet another 50-win season and the Spurs were right on Golden State's heels the entire season despite having only one All Star. No biggie. He gave Kawhi a bigger role on offense, and it paid off. He managed a roster stocked mostly with old vets and still found a way to lead it to the second-best record in basketball. The Spurs machine keeps chugging away, with Popovich at the controls.
Most Improved Player
Giannis Antetokounmpo
Isaiah Thomas
Otto Porter
It feels strange to put two All Stars and another borderline All Star on this list, but it's a major reason why the league has become as deep as ever in the star department.
It wasn't hard to see Thomas making another jump in 2017; the logical place for a 26-year-old point guard to go after his first All Star appearance is up. But holy cow, has Thomas blown away expectations.
He upped his scoring by nearly seven points per game while playing far more efficiently than he did last year. Thomas didn't just have a great season for a little guy, he had an all-time great season, period.
Porter was consistent and durable for one of the four best teams in the Eastern Conference, and he looked like the surefire second-place finisher for this award for a while. The hype over his blazing hot campaign cooled off since the All-Star break, and as the Wiz slowed down, so has he. Still, Porter is one of the most efficient non-bigs in the league, and went from anonymous starter to borderline All Star in just a season. Good timing that it coincided with a contract year.
Nikola Jokic was also in the running for a spot here, as was Rudy Gobert. Jokic has become the best passing big man in the league, and he jumpstarted Denver's offense to fourth in the league. Gobert should make an All-NBA team this year after being a defensive specialist and blah offensive player a year ago.
But this was Antetokounmpo's award to lose. It's easy to forget that he wasn't even the best player on the Bucks last year—Khris Middleton was. Now, the Greek Freak is a top-ten player in the NBA and the majority of the reason the Bucks made the playoffs despite not having a healthy core.
Giannis is one of just six players in NBA history to average 23 points, eight rebounds, and five assists per game with a true shooting percentage of 60 or higher. It's rare for anyone to post those numbers; it's even more rare for a 22-year-old to do it. Giannis is incredibly efficient and well-rounded for a player his age, and he's secured his place as the league's most intriguing under-23 player. He handles the ball, sets up his teammates, and guards four positions well every night.
There's still room for Antetokounmpo to grow, though another leap like the one he's made this season is unlikely. His jump shots still has a ways to go—he shoots just 27 percent from deep—and he lacks the seasoning required to be a true superstar (duh, he's only 22).
But the guy is limitless. This race was over before anyone else could make an opening argument. The ceiling is the roof for the Greek Freak.
That's it for Part I. Stay tuned for All-NBA, All-Defense, and All-Rookie teams later this week.
Stats current through the end of the regular season.
Stats courtesy of Basketball-Reference and NBA.com.